Ancient History of the Sergiev Posad Land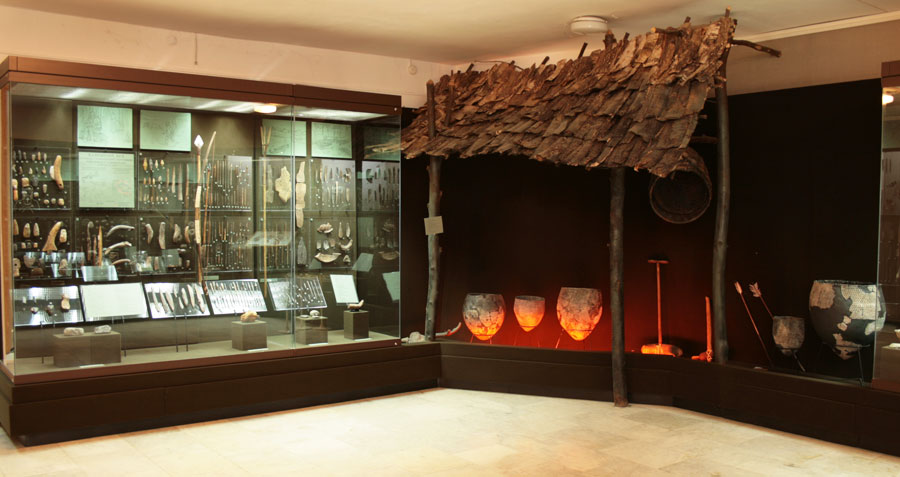 The exposition reveals ancient history of the Sergiev Posad Land, beginning with the Stone Age – the time when the first people appeared here – till the formation of Old Russian State (7th millennium B.C. – 13th century A.D.). It presents the collections of ancient items found during excavations regularly carried out by the archeological expedition of the Museum on the territory of our district. The authentic items are considerably supplemented by scientific and artistic reconstructions, models and moulages.
The Stone Age (7th – 2nd mil. B.C.) is represented by finds from the site Zamostje-2 on the Dubna River. They include tools for hunting and fishing of stone, bone, horn and wood, wooden and ceramic vessels. Among the finds there is a unique collection of primitive artifacts: bone sculptures, ornamented articles and decorations. The Bronze Age (2d millennium B.C.) in our area was marked by complicated ethnic processes: new tribes brought cattle breeding and copper metallurgy. The widespread Fatjanovskaya Culture (tribes of Indo-European group) left numerous burial sites (including Kuzminskoye burial ground on the territory of the Sergiev Posad district). Materials of the burial fields contain evidences of cattle breeding , copper metallurgy, developed cults of the sun, fire and bear and distinctly outlined tombs of "chiefs". Except tools and weapons of that period, the exposition presents a reconstruction of a Fatjanovsky skeleton with a drilled and polished axe of stone, a spherical ceramic vessel and a reconstructed sculptural bust of a Fatjanovsky man from Kusminsky burial field (made by M.M. Gerasimov).

The early Iron Age and early Medieval period (1st millennium B.C. – first half of the 1st millennium A.D.) is represented by the first iron tools and weapon of settled cattle breeders and farmers. They were found at Kikino hill fort – a fortress on the Velya River left by the ancestors of the contemporary Finns and Balts. The bronze "noise-making" decorations from the tombs of Ratjkovsky burial field, a unique burial ground of Finns and Balts in our district, reconstructed a female costume of that period. The Ratjkovo burial field on the Dubna River is a rare burial complex of the late Djakovo Culture of the mid-1st millennium A.D. It is the so-called "house of the dead" (we know only 2 of this kind). One of them was discovered at the hill fort Bereznyaki on the Volga River near Rybinsk (the Yaroslavl region), the other at the hill fort around the Savva Storozhevsky Monastery near Zvenigorod (the Moscow region). In these houses were found remnants of cremation with fragments of burial items and bronze "noise-making decorations". The specimens of the Djakovskaya Culture were left by Finno-Ugric and Baltic tribes – ancestors of the annalistic tribes – Merya, Muromy, Mordva. Subsequently, as the result of the Slavs' assimilation of Meri the Old Russian nation – Russians – appeared.
Slavs- Krivichi won the annalistic Merya and formed the first state on the territory of central Russia. Their monuments are tools and objects of everyday life from Radonezh , burial vessels and decorations from the grave-mounds from the banks of the Lake Pleshcheyevo