Order excursions
+7 (496) 540-53-56
+7 (985) 040-45-17


Old site - archive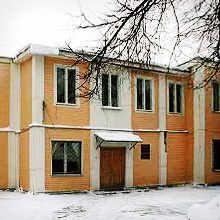 Local History branch
Expositions and exhibitions
Opening time of expositions
Wednesday – Sunday 10 00 – 18.00

Opening time of ticket-office
Wednesday – Sunday 10.00 – 17.30

Tickets
Ticket for 1 exhibition or exhibition:
adult - 160 rubles.
preferential - 80 rubles.
Photo and video shooting in the museum premises on the visitor's equipment (photo or video camera), without using a flash, tripod and monopod
Photo - 170 rubles/person.
Video - 230 rubles/person.
Phones
Ticket office: +7 (496) 540-44-28
Order of excursions: +7 (496) 540-53-56
Local History Building
In 1935 – 1936, the first plan of reconstruction and development of Zagorsk (now Sergiev Posad) was worked out. The first realized site of this plan was a kindergarten, laid in July 1937 on the home territory number 9 in the Ovrazhny pereulok. That was the first civic building, constructed in the Soviet period; the first nursery school for the children of young families – workers of the Knitting Factory, named after Rosa Luxemburg.

The two-storey brick house looks fine in the townscape. It is situated within the central historical part of the town (in the former Upper Service Settlement) on the territory of a vast park zone, 20 meters from the red line of the street. The kindergarten, built in a very shot period of time (only in five months), was opened in December 12, 1937 – on the Day of Election to the Supreme Soviet of the USSR. It functioned for 60 years (till 1997) and received many a thousand of children. Several generations of Zagorsk citizens come to the Museum with their grandchildren and great grandchildren, recalling their childhood, spent within these walls.

In the late 1930s, the citizens were proud of this building. A perfect combination of constructivism (large threefold windows, complicated configuration of load-bearing walls) and neo-classicism, traditional for Zagorsk, made it one of the sights of the pre-war town. Among the surrounding one- and two-storey unremarkable structures of the late - 19th – early 20th century it was original and very well-situated. The two-storey brick house with a hipped roof was rusticated and painted light-beige. Surrounded by spreading trees, it stood deep in the park. The upper and level cornices were decorated with curbs and profiled ledges. A small elegant balcony with forged bars adorned the main western entrance. The similar bars and small rectangular brick columns with flowerpots formed the entry zone, looking like a front garden, framed with brickwork.
People, entering the house, found themselves in a spacious hall of 40 sq. m. in area, capitals of four rectangular columns and four ceiling plafond sections were decorated with simple plaster friezes. The attractive floor was an ornamental marble mosaic of a geometrical pattern (the marble floor, columns and ceiling plafond sections have survived).

The building was reconstructed more than once. In 1997, the town administration put it at disposal of the Sergiev Posad State History and Art Museum-Reserve. It houses the Department of History and Culture of the Sergiev Posad Land of the 20th - 21st century. The permanent and temporary exhibitions are dedicated to the local history.